Why Chose a Certified Green Building Contractor

R.J. Aley Building Contractor, a proud partner with ENERGY STAR, serves the Lower Westchester, Fairfield and New Haven counties to deliver whole-house energy savings, improve comfort, and help protect the environment.
See an example of one of our green building projects>>
New England, with its cold, harsh winters and high water levels makes homes in this area of the United States particularly susceptible to energy efficiency issues as was as moisture issues.
An energy efficient approach to construction results in energy reductions that amount to a significant savings over the lifetime of a building. Furthermore, old buildings that were not originally designed to be heated by fossil fuels truly benefit from a "green" approach. Green solutions are often in keeping with the original intended design of these buildings. There are many relatively simple (and inexpensive) things that a knowledgable green building contractor does to decrease energy consumption in a home while maintaining a high quality of life for the home's occupants.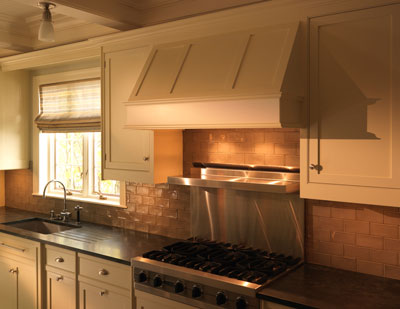 Rye, New York
Insulation

An experienced green building contractor will assess your home's present condition with respect to insulation and will present solutions that not only bring energy consumption down within the home, but also respect the home's historic integrity. Resistance to heat-flow, ease of installation, density and permeablility are all factors in the choice of a weather-proofing strategy. A green contractor also addresses environmental concerns in formulating a solution, for example, transportation costs of materials, environmentally prefered composition of materials, and moisture resistance of materials.



Renewable energy solutions

Many historic buildings have special building code and aesthetic regulations governing them that are locale-specific and limit the choice of renewable energy solutions. An experienced green builder is familiar with those codes and regulations and can assist the building owner in the choice of energy solutions that fit with the character of the building as well as providing future energy savings. There may be some tradeoffs in efficiency that come with meeting codes and regulations, and only a builder who has experience in the locale and experience with renewable solutions will be able to anticipate these appropriately.



Window restoration

Windows allow not only light, but also heat into a building. Unfortunately, window deterioration can work against enery efficiency. R.J Aley is an expert in window restoration, and we use a variety of methods to restore the integrity of old windows while bringing them up to current standards of energy efficiency.
Many older homes suffer from moisture problems, which can lead to issues with mold and mildew, indoor air quality, and peeling paint. A green building contractor has the experience and training to correctly anticipate and remedy these issues.
Proactive assessment of potential moisture problems

Correcting existing moisture problems is the goal of many a home owner. Since many New England homes are built on ledge, the choice of a contractor who understands the particular character of these moisture problems makes the difference between a successful and unsuccessful solution and avoids an inadvertent post-renovation moisture reaction. An experienced green contractor will address a moisture problem with a remedy that considers the environment, which is much more likely to avoid unforeseen and unhealthy consequences for the inhabitants of the building.

Insulating without considering moisture

It is not prudent to formulate an insulation strategy for a building without addressing the moisture situation; tightening up and insulating a building can cause moisture to accumulate in places where it can lead to mold and mildew problems, lower indoor air quality, and cause damage.